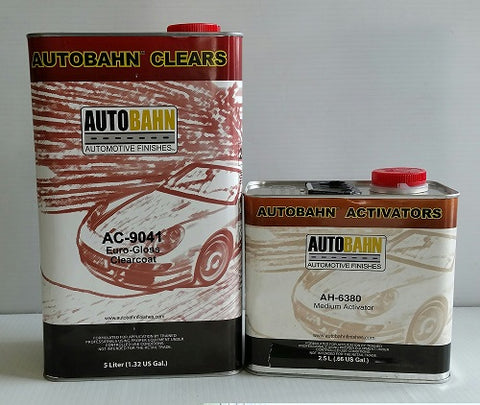 Euro Clear AutoBahn AC9041 (AC9041-1L W/ AH6380-2.5) Auto body shop restoration car paint
AC-9041 Euro Clear is an easy to spray; water white low VOC high quality clearcoat designed for panel repairs and complete refinishing over most aftermarket acrylic enamel, acrylic and urethane basecoat systems.
AC-9041 can also be integrated into most acrylic enamel and urethane single stage systems for improved gloss and durability.
AC-9041 dries fast and retains high gloss and DOI.
AC-9041 provides excellent durability and is resistant to environmental conditions such as sunlight and acid rain.
AC-9041 can be buffed to match the original finish after 8-12 hours air dry and can be buffed for several days.
When mixed 2/1 with AH-6380, the AC-9041 Clear has a sprayable VOC of just 4.2 lbs/gal making it one of the lowest VOC painter friendly clearcoats in the industry.
---
We Also Recommend