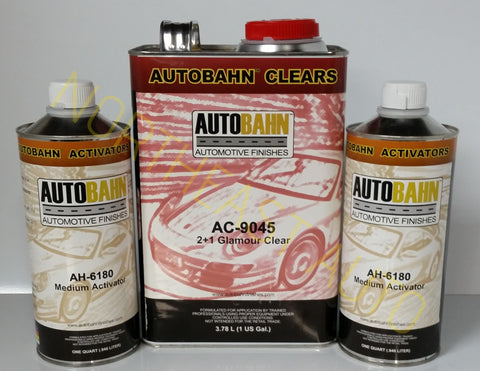 Glamour WETWET Clear AutoBahn AC9045 (AC9045 W/ 2-AH6180) Auto body shop restoration car paint
A high solids clear coat offering superior gloss, outstanding adhesion, and excellent durability. Made from premium components. The favorite clear of discriminating painters for its ease to work with and the finish it provides. Available in gallons and quarts. Mix 2:1 with our AH6170, AH6180, or AH6190.
THIS CLEAR IS ALSO KNOWN AS , WETWET URETHANE CLEARCOAT!
AC-9045 Clear is a water white, high quality clearcoat designed for larger repairs and complete refinishing over most aftermarket basecoat systems.
AC9045 dries fast and retains high gloss and DOI.
AC9045 provides excellent durability and is resistant to environmental conditions such as sunlight and acid rain.
AC9045 can be buffed to match the original finish after 5-14 hours air dry and can be buffed for several days. With AH-6180 hardener.
AC9045 can be applied in a variety of shop temperatures and humidity conditions.
---
We Also Recommend