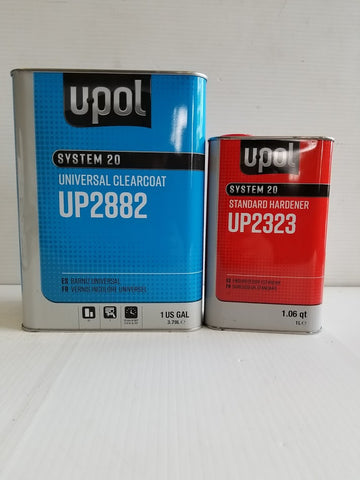 U-POL Universal Clearcoat UP2882 National Rule 4:1
Made from the highest quality European resins, U-POL SYSTEM 20 CLEARCOATS offer superior performance in a range of formulations to suit a variety of shop conditions and specialized applications.
UP2881 / UP2882 is a U.V. resistant high build finish with excellent gloss retention. Excellent scratch and abrasion resistance. Easy to apply and quick drying. Can be used for spot, panel or overall repairs. Air dry, low bake or I.R. cure. Excellent flow and non-sag properties. Easy to sand and polish.
U.V. resistant high build finish with excellent gloss retention
Can be applied over most water and solvent borne basecoat paint systems
Excellent scratch and abrasion resistance
Easy to apply
Can be used for spot, panel or overall repairs
Air dry, low bake or IR cure
Excellent flow and non-sag properties
Easy to sand and buff